Faramooz News
News
The presence of Iranian Anti-Tobacco Association on the third day of the National No-Tobacco Week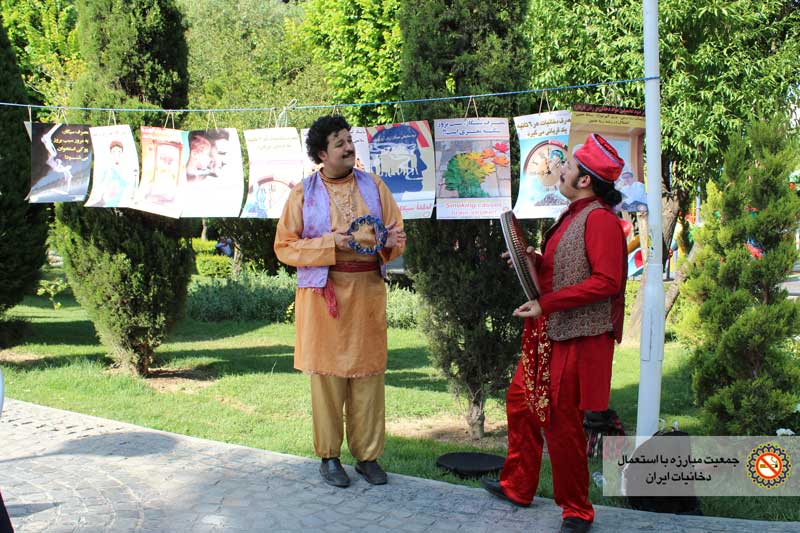 On the third day of the National No-Tobacco Week, the street theatre groups of IATA performed in Tehran's parks in cooperation with the Health Department of the Tehran's Municipality.
The programs were held on June 17th in three turns, each for 30 minutes, by two groups of "Mobarak" and "Siyah-Bazi" simultaneously in Aban Park (District 14), Pamchal Park (District 15), Be'sat Park (District 16), Ararat Park (District 3), Asadabadi Park (Area 6), and Park-e-Shahr (District 12).
These programs, while creating happy and instructive moments, with the slogan "Do not let tobacco take your breath away!", carried out by the Unit of Faramuz, affiliated to IATA, with the aim of informing people of the harms of tobacco and culture-building for avoiding tobacco use in public places, as well as protecting children against second-hand smoke.
The performance of live, cheerful, humorous traditional music in these shows was welcomed by people from different age groups and had a great attraction to the audience.
At the end of the programs, while introducing the activities of IATA, the special magazine of IATA titled 'Red Card', along with cards for membership in Faramuz (for children aged 6-12 years), were distributed among the audience. Moreover, the audiences were invited to enroll their children in free classes held by the Faramuz Unit and smokers were invited to stop smoking and to visit the Smoking Cessation clinic and to use its free services.
Noteworthy, the National Mobilizing for Blood Pressure, the Nicotine Anonymous Association, and several other associations also provided services to citizens in mentioned parks.
A joyful and amusing conference dedicated to the National No-Tobacco Week was held at Shahid Abdollahi Sports Hall in Ja'farabad village, with the participation of the Qom Branch, affiliated to IATA, as well as the performance of the Faramuz Unit.
Also, regarding the National No-Tobacco Week, the Unit of Smoking Cessation Clinic, affiliated to IATA, participated in Shahid Arab Park (District 10) and provided various services to the audience, including counseling, performing PICO Test (for persons aged 15-25 years), and distributing brochures, magazines, and membership cards.